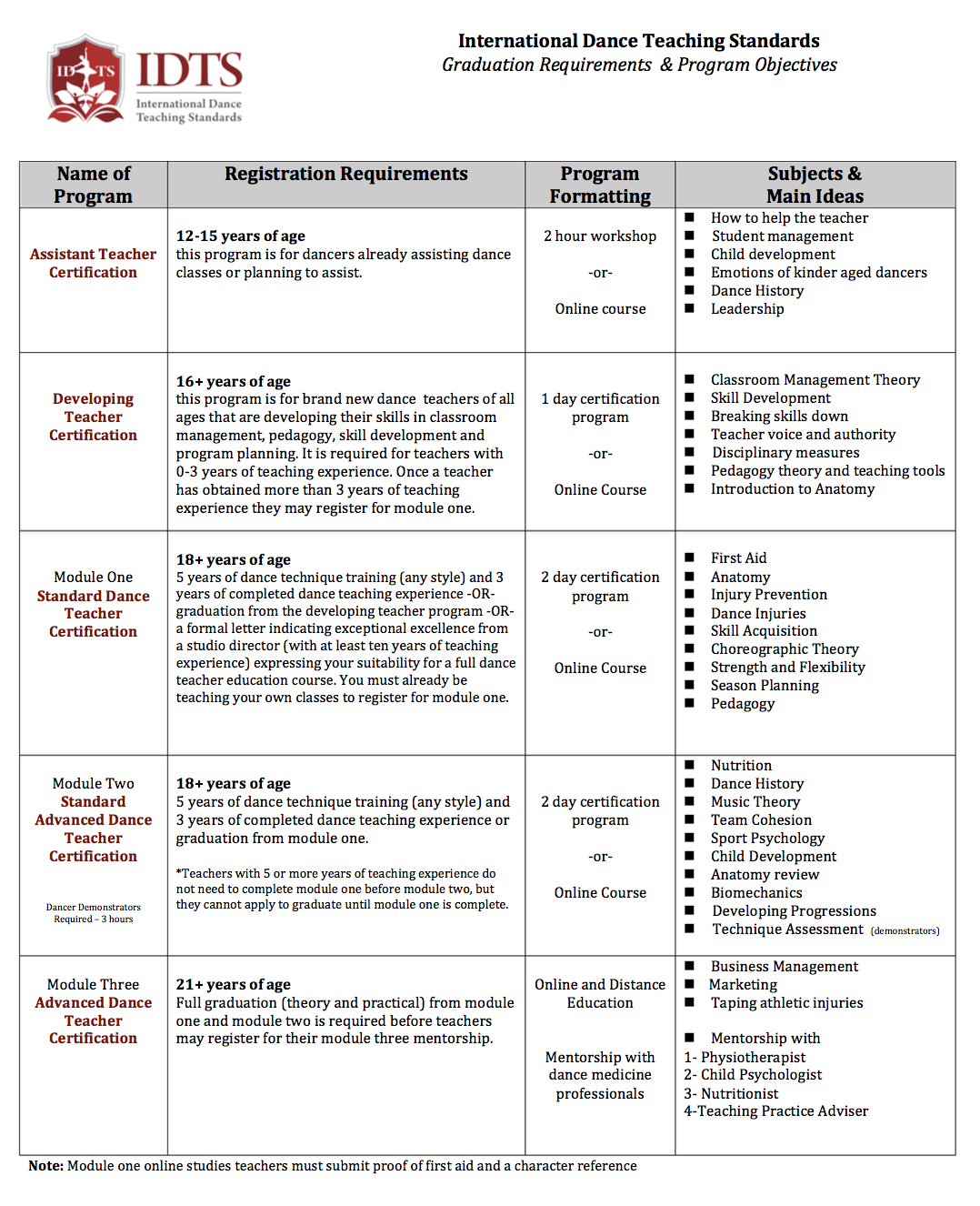 How established is the IDTS teaching program?
We have been operating since 2006 and have registered teachers in 50 countries worldwide.

What do I get when I finish?
On successful completion of all the graduation requirements teachers will be mailed a graduation teaching certificate with an official gold seal.
What is the minimum age requirement? Who can take this course?
An individual must have dance technique knowledge before being permitted to participate. We do not teach you "how to dance" we teach "how to teach dance" therefore participants must already have dance experience. The age requirements are as follows:

Student Assistant Teacher Certification: 12-15 years of age, no experience nessesary

Developing Teacher Certification: 16+ years of age, 0-3 years of indepedent dance teaching

Standard Dance Teacher Certification: 18+ years of age, 3+ years of independent dance teaching

Advanced DanceTeacher Certification: 21+ years of age, 5+ years of independent dance teaching
*For the standard and advanced programming teachers must have 5 years of technical training
(in any style) in order to be elligible to register. In addition they must already be teaching their
own classes and not simply assisting classes.

How is this course offered?
This course is offered online year round, or at "in person" courses at various locations worldwide. The online course isn't entirely online but it is completed through distant education, meaning you do not
need to travel to a course, but some of the units are in the course manual rather than online specifically.
How soon can I start?
Your comprehensive teaching resource guide will be sent in the mail. Please allow between 3 days and 3 weeks to receive it depending on what country you live in. Asia and Africa residents should expect
longer delays in shipping. Once you have your manual you are able to start your training!
How are the in person courses taught?
The IDTS Certification program is a pedagogy-based program that does not focus on any particular style of dance (ie, jazz, tap, salsa) but rather the craft of teaching dance. The program is taught in a community discussion based manner. The course instructor will present educational theory concepts and ideas and students will participate in small group discussion on these topics. Sometimes the students may be separated by their discipline (ie, ballet) to facilitate conversations in their genre, sometimes they may be grouped for other reasons (more experienced teachers, new teachers, etc). Some subjects are better covered in a teacher lead format, for example the Anatomy unit is best taught in a teacher lead format due to its complex fact based nature. When possible the group discussion format will be prioritized, in other times it will need to be partner or teacher lead activities to streamline productivity.

Who will teach this course?
All course faculty have the minimum of a Masters degree in Education and are a registered school teacher in the their home country. As well they must hold a bachelors degree in either dance or kinesiology/movement sciences and have at least ten years of full time dance teaching at the studio level. Their main goal is to drive comprehensive small group discussions by utilizing the expert
knowledge in the room (attendees) as the main source of idea based discourse.

When can I start my practical Hours?
You are requested to apply the knowledge you gain in the theory courses towards your teaching practice. Therefore, only hours you teacher AFTER the course can be applied to your practical hour requirements for graduation.
Can I use hours previously completed before the course towards my practical?
No you cannot, this is to utilize the material you have learnt and put it into practice.

How long do I have to complete my Practical hours?
Teachers must complete their practical hours within one year of finishing the course material.

Why do I have to submit proof of First Aid for the online course but not in the "in person" modules?
The modules conducted with a course instructor have a built in first aid unit. We cannot teach the first aid unit online, as it is required that students demonstrate technique on one of the CPR Dolls. Please attend any first aid course in your local city and submit proof of completion with your graduation application.
Is there a dinner break at in person courses?
Each course will have a dinner/lunch break of at least 30 minutes - to an hour, the length and time will depend on the course instructor and lesson plan as well as the hours allotted to cover the material.
How much is the tuition?
Each module is $320.00 Canadian Dollars plus applicable taxes. There are three modules for the program; you may take one, two or all three, each module is $320.00 Canadian Dollars. Payments are made online with credit card, or contact the office for other alternatives via paypal. Please use an up to date conversation exchange for applicable rates in your home country.

How long do I have to complete the online course?
There is no deadline for the completion of online studies, however if the course requirements change, the student may need to complete additional modules in order to meet the graduation requirements.
What is the purpose of this course and the modules?
This course was primarily designed to standardize what is expected of developing dance educators. Dance teachers are in charge of young human beings; they are capable of causing permanent injury both physically and psychologically. It is our goal to train and develop the next generation of competent, confident and safe dance educators. The standards of practice were inspired by the British Columbia (Canada) provincial teacher regulation branch standards and code of teacher ethics.
Who can be my supervisor?
Any teacher (school teacher is ok) with ten years of teaching experience. The supervisor will watch a 1-hour class (30 minutes if teaching primary) and provide notes and collaborate with the teacher afterwards.

What if I live in a small town and there are no dancer teachers but me to serve as my supervisor?
Every town has a school teacher if there are enough students to be enrolled in dance classes, school teachers can serve as the supervisor. In the case of the practicum hours a reliable person of authority may sign, the IDTS will check in with the references.
Need more information? View a PDF: here